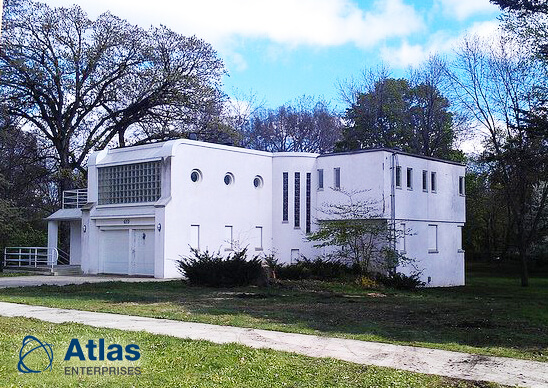 Egloff House Move
copy
Holland Corporations manufacture a bridge to complete historical Egloff House Move in Mason City, Iowa
Forest City – Built in 1938, the Historic Egloff house on 7thStreet NE in Mason City was damaged by flooding in 2008. The home is considered an outstanding example of the International Style of Architecture. City officials and historic preservationist joined to create the non-profit, Community Benefit – Mason City who worked hard to raise funds to save the home from demolition. Atlas Enterprises, one of three companies of the Holland Corporations was hired by the Community Benefit Group to move the home and several nearby structures to higher ground on State Street in Mason City.
Project discussions began in 2013, with several of the smaller nearby homes moved in Fall and Winter of 2014. The route to move the homes brought the Egloff house over the 100 year old North Carolina Bridge. The Egloff home is a concrete structure that exceeded 400,000 pounds and project engineers determined that the weight of the home exceeded the limitations of the bridge. HMR Supplies, another of the Holland Corporations, engineered and manufactured a bridge that was placed over the North Carolina Bridge to distribute the load of the home off the bridge as it crossed over.
"The challenge of engineering and manufacturing a bridge is what makes this project unique for us" says President, Chris Holland. "The bridge showcased our engineering and manufacturing capabilities. We accepted the challenge are pleased with the results".
The bridge took several months to design and manufacture at the HMR Supplies facility in Forest City. The temporary bridge was constructed of four steel platforms that were connected by a bolster in the center of the bridge. The length was 136 feet, the width 29 feet and the weight was just over 260 thousand pounds. Over 1500 heavy hex bolts were used to construct the four steel platform bridge sections. The bridge sections were transported by truck to the North Carolina Bridge. Assembly of the bridge on site took four days. (See attachment 1).
The Egloff House move took place on August 24th, 2015. It took approximately 45 minutes to cross the temporary bridge. A structural moving crew of ten were constantly observing the structure, dollies, utility lines, trees and the amount of displacement on the temporary bridge as the historical home inched its way over the bridge toward its destination on State Street. The Egloff House was fitted with 10 Holland Dollies, two power dollies in the front and back of the structure, which propelled and steered the home using remote controlled devices. The other 8 dollies were coaster dollies. Following close behind the Egloff House was its garage section. The sheer size and weight of the house and garage necessitated that they be cut apart and moved separately.
copy
cipy