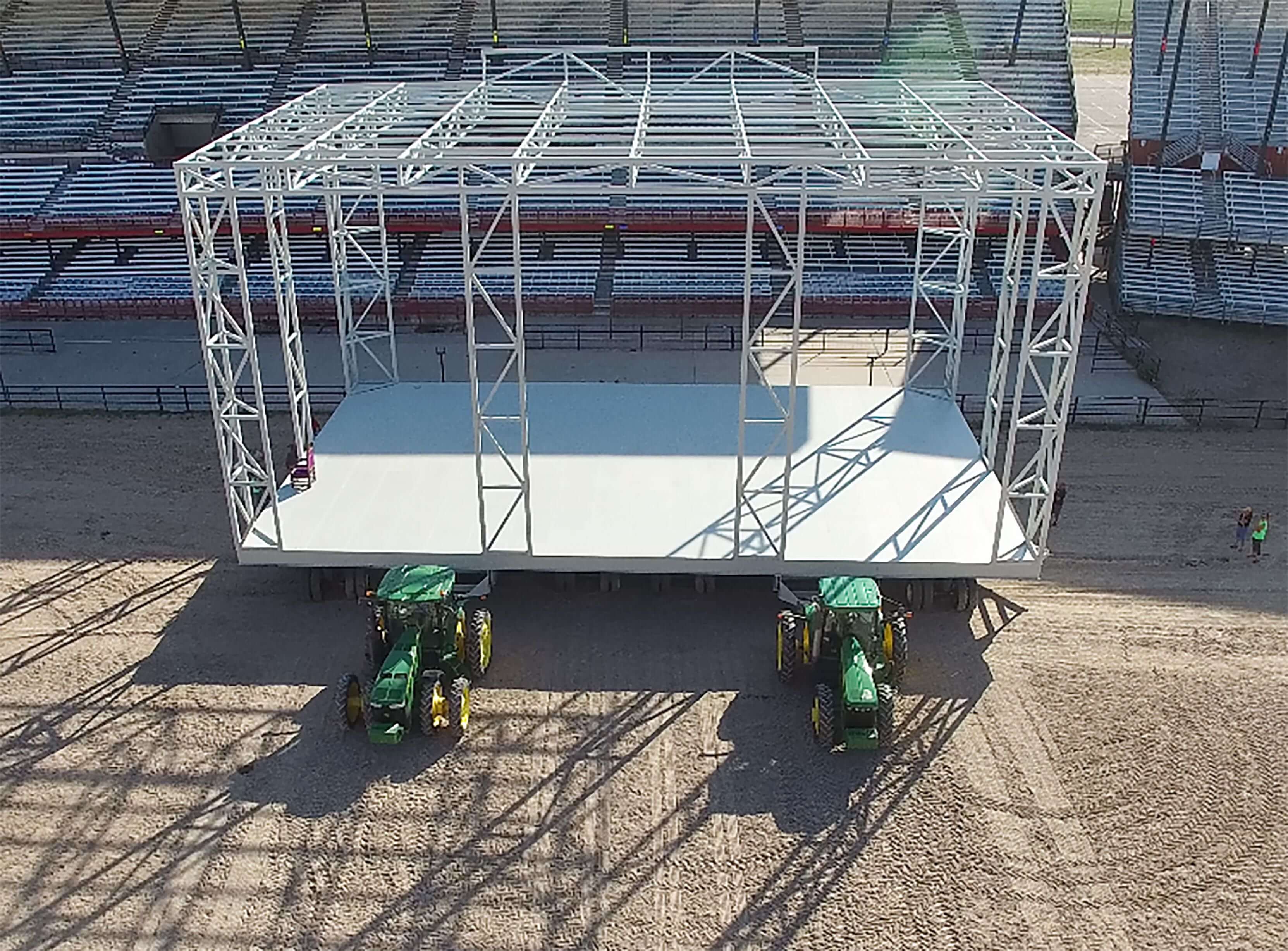 On behalf of HMR Supplies, Liz Thompson and Paul Oulman accept the award for Most Innovative Move from the Midstates Housemovers Association. Our work with the Cheyenne Frontier Days Stage was the award winning project. This project featured the Holland knuckle dolly.  See the video below.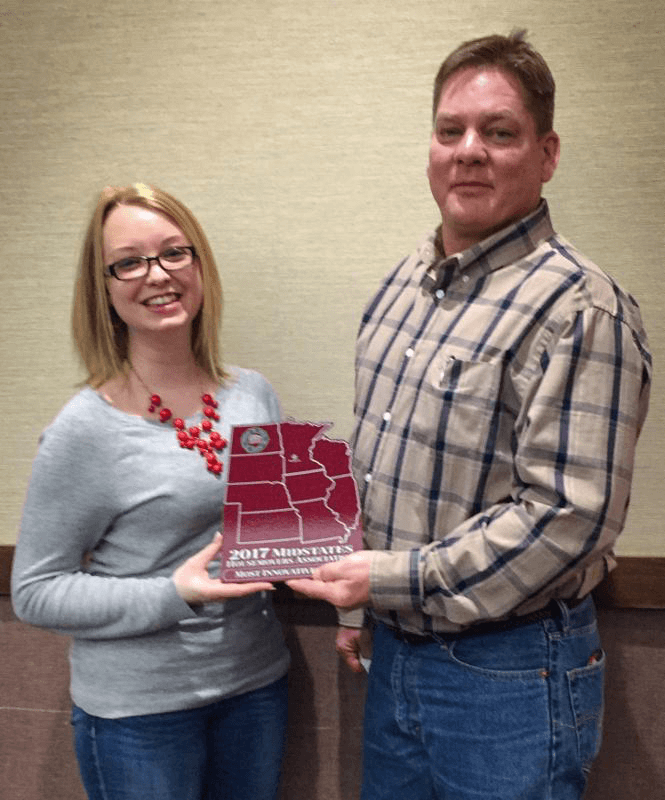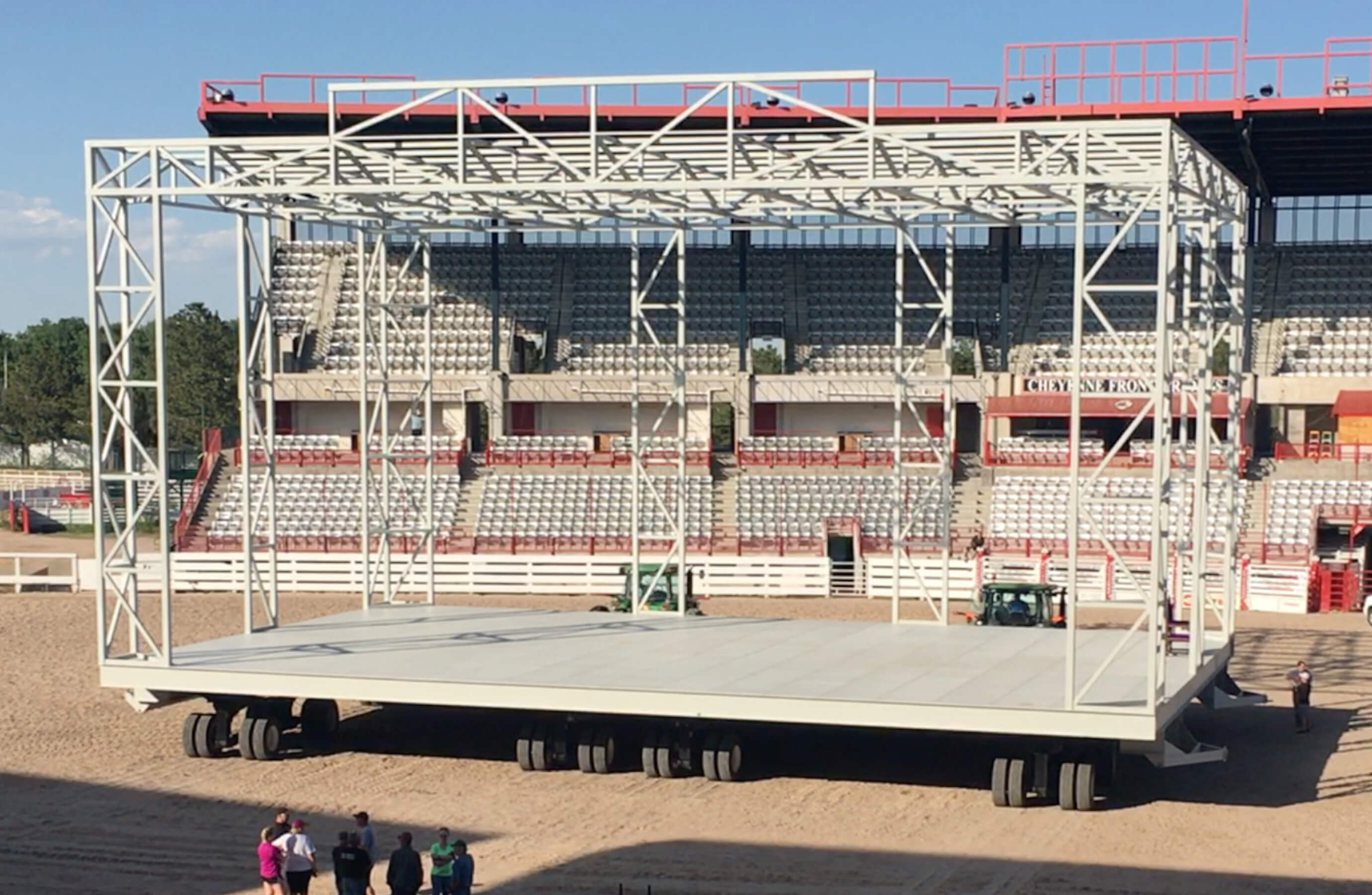 HMR Supplies recently completed a large project in Wyoming. The challenge, to design a system to move a 50′ X 80′, 200,000 LB outdoor performance stage 200 yards. The customer requested a moving system be attached under the stage so that it could be move into an exact position between shows at the Cheyenne Frontier Days venue. Customer specifications indicated a 20 minute time requirement to move the stage into place and that the power to move the stage be provided by a two tractors. HMR Supplies designed a system using six custom dollies to move the stage.
Project engineering, specification drawings, programming, weight performance testing were completed at HMR Supplies facilities in Iowa. 
To complete the project, HMR Supplies manufactured 6 dollies with a knuckle suspension. Steering and height were controlled by a hand held remote attached by umbilical cord and powered by a Holland Power Unit.
-The knuckle suspension on the dollies was 67.16 inches tall when collapsed and 85.66 inches tall when fully extended provided a lift of 18 inches.  The knuckle suspension also provided a 135 degree turning capability to the stage. 
-Each dolly weighed 10,000 LBS with a 56 inch wheel track, and eight 315/80R 22.4 20 ply tires.
-Spring applied brakes on the four outside modules for parking.
-The 100 hp. power unit featured a Fiat Power train diesel engine, a 30ft umbilical to the remote, 3 lifting zones, 2 steering zones, and 2 braking zones, and on board air compressor.
The project was installed and tested in June 2016. Testing onsite was successful, meeting customer requirements.  
The project highlighted the work that we do best, customizing the Holland Dollie®product to meet the needs of the customer's project.
Video of the project test footage and installation can be viewed here: https://youtu.be/NmxM4O5C8Ig